Last Update
13/11/98
Copyright &copy 1998 SHPF
All Rights Reserved
Lanarkshire's Brian McKendrick recalls an effortless flight with a new glider, roaming at will in the sky above Glencoe.
Nevertheless, in our equally frequent state of desperation, we set off to meet others at the eastern end of the Moorfoot hills where the slope is shallow and suitable for strong winds. The airport weather reports gave wind strengths between 8 to 12 knots, average 340 degrees.
The wind on the hill was gusting to 25+ and none too friendly! A good time to sit in the car and catch up with friends or read the newspaper......... Some time later the airport reported a drop to 7 knots, and this lessening was felt on the hill soon afterwards. I waited with glider ready, watching the sky - the heavy cloud had passed leaving clear air and the distinctive building of cumulus, although with some wave evident. Go!! Launching into moderately turbulent air I slope soared for half an hour before landing by the cars in the bottom field. Others had by this time prepared their gliders and were ground handling, watching the conditions carefully.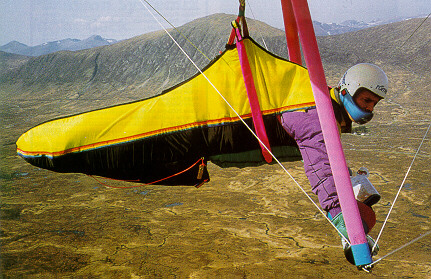 Brian McKendrick (on another occasion airborne from Glencoe).
Beinn a Chrulaiste and Ben Nevis in view beyond.
To be completedů
Author: Brian McKendrick (Lanarkshire)
Issue: January 1994
Tel: Not Available