There was a new venue for this year's Open, some 55 miles SW of Glenshee. The two main sites Beinn Leabhain and Meall a' Mhadaidh to the south of the village produced good wave with enough regularity for the keener pilots to camp overnight in this very scenic area so as to be able to go for the early morning wave with 4 am take off!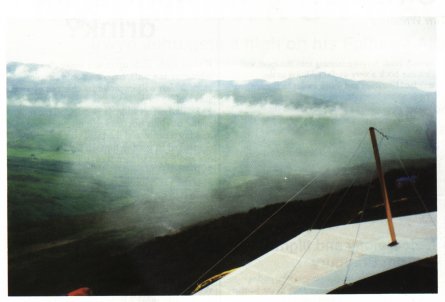 The view from take off on the Monday. (Picture by Tom Hardie)
Wednesday 21. It's a beautiful day. The BBC are coming to do some pre-competition filming and it isn't raining, blowing a gale or flat calm - it's all too good to be true. The men from the Beeb go away well pleased with the footage that they've shot and videos are set to record the BBC six thirty Scottish News on Friday.
Thursday 22. Some pilots do battle it out in the rough high wind conditions, the high pressure that had been giving the weeks of good weather is drifting south allowing a damp low to encroach from the NW.
Friday 23. Thirty or so pilots have arrived early enough to get some quite sporting and variable but good pre-competition flying. Six thirty and all the "stars" are in the bar watching the television….No news….it has been blacked out by the strike!
Saturday 24. At close of registration there are 115 entrants, from the far south Graham Deegan and Brian Gourley have come up from Airwave and the Dover & Folkstone Club have made their annual exodus to escape the flying as they say – what a cheek! From the other direction John, Kristian and Sporti have come down from Iceland yet again.
The westerly wind is forecast to have weak thermals under a total cloud cover so Comp Director Mike Armstrong set a 9km, 2 turn point race to the bottom landing field from the 200ft take off at Beinn Leabhain. Unfortunately a lack of time prevented the turn point markers being placed as well as they might have been, so it was possible to gain an advantage but everybody had the same chance.
Wanting to try and avoid the aerial crowds I took off as soon as the window opened, climbed to 300ft ato in a small rough thermal and promptly got drilled to the bottom landing 1200ft below take off. It worked, I had the sky to myself for the whole of 8 minutes! By the time I got back to take off things had settled down in to a roughly hourly pattern of firstly light trashy lift with little height to be had gradually changing to stronger trashy lift up to cloudbase at 1400ft ato (some 300 feet below the tallest surrounding mountains!) After landing Graham Deegan said that if those were the sort of thermals with no sun what were the sunny variety like – "Oh much the same," came the reply, "you are in Scotland."
My second attempt met with a lot more success, two turn points later and I'm on a 2km into wind glide to the goal with naff all in the way of 360-able lift, John Thompson is 10 yards to my left and about 10 feet below and neither of us are sure as to if we'll make it or drop short. Yes we will, no we won't, maybe a bot more speed, maybe a bit less, we pass over half a dozen pilots who have dropped a matter of yards short, stay in prone with harnesses open, we're into ground effect now. I swing out of prone over the goal boundary with 10 feet to spare, John made it with 5 feet to spare.
We thought we had got in by the skin of our teeth, Colin Lark crossed the boundary with just enough height to come out of prone and slalom around two derigged gliders on the edge of goal before making a very stylish landing 10 yards in to the field! To have just got to goal made his day but later when he found out that he also had the fastest time that famous grin was wider yet!
With second attempts the 4WD Team (many thanks to all the owners and drivers) and the Hill Top Team (Al McNeish, Bob Dunthron and Lawrence Waterson) must have successfully taken to take and launched over 200 gliders in roughly six hours. The final tally on the ground, was 14 made it into goal and 1 overshot!
Sunday 25. Sunday didn't so much dawn as get blown in on a tidal wave of rain and in some cases hangovers from the disco the evening before. The forecast wasn't very hopeful but optimism dictated a rebrief at 3pm. The final score was pessimists 1 optimists 0. Being prime tourist country there was plenty to in the area, also having the courage and finances Bob Dunthorn volunteered his glider to be used by Colin Lark who gave a very interesting demonstration strip down and check complete with a frightening catalogue of faults he discovered in gliders over the years.
And so to the Ceilidh! Susan Biggerstaff, the boss of the socialising, had booked the band that was at the Open two years ago, Desperate Danz Band. To give you some idea how good they are, the Dover & Folkstone Club want to book them for their Christmas Dance! The kilts had their usual effect, even that many of many parts (some a bit more on view than usual!) Ronnie Freeman had raided his local Oxfam as the band said had a fine pair of curtains round his waist!
A well supported raffle was held to raise money for the Scottish Team going to the World Championships in Which Graham Deegan won a copy of the band's LP so now that he, Rory Carter and Brian Gourley have had the training and have the music we should be able to look forward to the new Airwave Formation Ceilidh Dance Team.
Monday 26. The weather won today! What a surprise! A light westerly with very weak thermals left a task setter's nightmare. The lift coupled with the number of pilots and the passing showers made a duration and splat impractical so Mike bit the bullet and hoping for a weather improvement set a 30km out and return race. Poor light wind take off technique aided and abetted by rain covered sails led to some rather dodgy take offs, the steep slope saved all bar one pilot and he escaped with a bill for one upright! Unfortunately nobody made the minimum distance, if the weather had come through a few hours earlier or a bit faster things would have been very different, anyway the final results were those of the first day:
The prizes were jointly preseneted by Captain Bailey-Hamilton and Charlie MacLennan. Captain Bailey-Hamilton, who owns the two principle sites in the area, has welcomed hang gliding on to his land as a complimentary use to his forestry activities and said that he would be pleased to see the competition return to the area. Quite a few people asked if he had any plans to buy land in their area! Charlie MacLennan has been the Scottish Federation's link man on the Scottish Sports Council for over 14 years, his retirement from the Sports Council ewas marked by a presentation of a framed photograph in recognition of all the support and encouragement he has given over those years. In reply Charlie said that in addition to the photgraph the best reward he had been given was to see a full Scottish team going out to the World Championships – a true recognition of all the hard work put into Scottish Hang Gliding by so many people over the years.
Mike Armstrong thanked everybody on the organising and helping side for all their efforts and also all the pilots for attending especially all those who return year after year. After thanking Mike for being Director, or Chief Hassle Collector, everybody piled into the bar to watch the rescheduled piece on the news, no strikes this time!
And so to the post-mortem, as in a few previous years there wasn't much flying as we would have liked, but it was yet another classic year – they all are!
Results
1st
Colin Lark
Rumour
2nd
Lawrence Adam
Kiss
3rd
Ian Currer
Kiss
4th
John Thompson
Magic IV
5th
Tom Hardie
Excalibur
6th
Len Hull
Kiss
7th
Donnie Carson
Magic IV
8th
Donald Roberts
Magic IV
9th
Dougal Scott
Magic IV
10th
Roland Furniss
Moyes GTR
Best Lady
Pam Sykes
Magic IV
Author: Tom Hardie (Moray Eagles)
Issue: August 1989
Tel: Not Available