Irene Dunthorn relates how three Scottish pilots flew the Cairnwell on 13th January and witnessed the beauty brought by the snow.
The forecast for a clear day with a "guess the direction" light wind, meant the only real possibility for flying on Sunday 13th January was to go to the Cairnwell Mountain. The problem was that the skiing was forecast to be excellent which meant that the car park would be full before 9:30 am. Only three of the Aberdeen Hang Gliding Club, Donnie Carson, Sandy Argo and myself opted for the early start, getting up at 5:30 am to arrive at the Cairnwell at 7:45 am.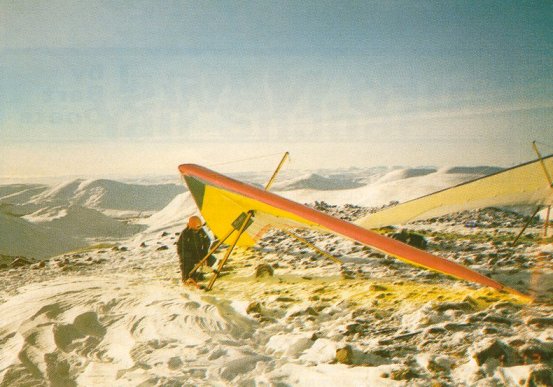 Rigging on the top was cold despite the very light wind. (Picture by Donnie Carson)
People were skiing already and it was still dark! The sky was clear and there was no wind at the car park level (2000'). Things were looking good. We got organised quickly to get up the chairlift before the queues were too long (8:30 am). The chairlift journey is even more interesting in the winter when there is a lot of snow as the chair gets very low to the snow level and travels twice as fast! Thanks to the help from Donnie and Sandy we had all the gear on the summit by 9:00 am and what a breathtaking view we were rewarded with. The sun was just rising and all the snow-covered Cairngorm Mountains had turned red.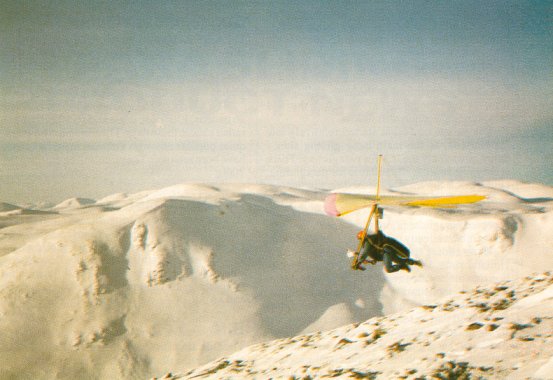 Irene takes off at 11:30 to fly over the snowscape. (Picture by Donnie Carson)
There was a light southerly breeze at the top as we rigged in the snow. It was very cold but so crisp and clear you could see the snow covered mountains for miles in every direction. At around 11:30 am I took off into an 8-10 mph wind hoping that it might be enough to stay up but nothing seemed to be lifting so I opted for an 8 minute float to the landing area 1700' below, flying over the cliffs and watching the deer. I landed facing south dropping the nose, surprised to find a light breeze from the north.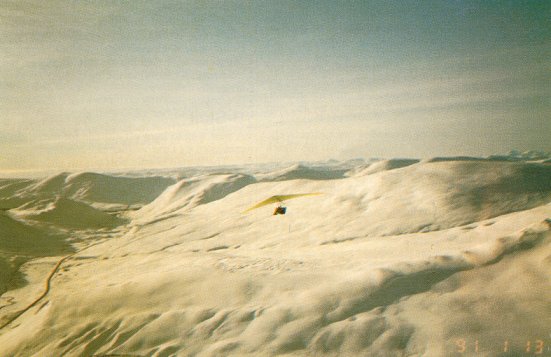 Irene takes off at 11:30 to fly over the snowscape. (Picture by Donnie Carson)
Donnie flew not long after me and again found no lift so enjoyed the flight to the bottom putting on a show for the skiers who were passing by. Sandy opted to wait a couple of hours to see if the wind would pick up which it did to around 12 mph but he too found all the air sinking – probably because of the sub zero temperature.
After de-rigging in thigh deep snow, Donnie and I hitched a lift back to the ski area and skied until sunset. This may not have been the most exciting flying we've ever had but the exhilaration we felt on top of the Cairnwell that day made all the effort worthwhile.
Author: Irene Carson (Highland)
Issue: April 1991
Tel: 01463-793869 Email: Donaldb@millburnac.demon.co.uk